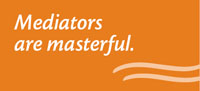 The Dispute Resolution Center offers a variety of low-cost classes and seminars to increase your personal skill development. Classes give you tools that you can use in your work and home life and will help you learn new communication and conflict resolution skills.
For a list of these classes check out our Classes & Events page.
Continuing education credits
The DRC provides a variety of continuing education credits for professionals. Take a look at the individual class descriptions to see which credits are available.
CLEs: Continuing Legal Education for attorneys
Clock Hours: for educators
CEUs: Continuing Education Units for mental health professionals

Licensed social workers
Licensed mental health counselors
Licensed marriage and family therapists
Need skills right now?
If you're looking for tips to improve your skills right now, check out the Resolution Tips.