Does mediation work?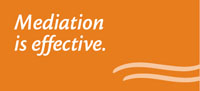 Resolving conflict by using an alternative approach like mediation is very successful. When people litigate their disputes, they comply with the court order about 34% of the time, but when they use mediation they keep their agreements 71% of the time! This is because when you're part of creating the solution, you generally feel better about the agreement and are much more likely to stick to it. There is no doubt—mediation works!
Are mediators qualified?
The professionals who mediate for the Dispute Resolution Center have received extensive training. All DRC mediators have completed a 36-40-hour classroom training and have graduated from our 2-year practicum where they were mentored by senior-level mediators. The majority of our mediators have advanced training in specialized areas such as family, dissolution, foreclosure, and workplace mediation and many are certified by the Washington Mediation Association. All of our mediators are encouraged to take continuing education classes which are provided by our DRC and other organizations. The mediators at a Dispute Resolution Center come from a variety of backgrounds including business, government, education, health care, and law. In the facilitative mediation model, the mediators guide the clients through the process to ensure that it is safe, civil, fair,
and productive. DRC mediators do not make decisions or provide legal advice or advocate for either party.
Mediation is governed by legislation.
The Dispute Resolution Center of King County is a private, 501(c)(3) not-for-profit organization authorized by local state legislation, Revised Code of Washington RCW 7.75, which guides the activities of dispute resolution centers in Washington.
Mediation is governed by professional standards
The Dispute Resolution Center is guided by ethical standards that can be found in the Model Standards of Conduct for Mediators and the Washington State Uniform Mediation Act. These standards include client confidentiality and privilege in mediation proceedings and documents. All mediators are required to adhere to these standards, and the Dispute Resolution Center regularly conducts training on these guidelines.
Testimonials
Mediation works
This has kept us out of small claims court.
Thank you for making a stressful situation better.
The mediators did an excellent job listening and sticking to the issues. Mediation helped us to hear and understand where "the other side" was coming from.
We were able to come to an amicable agreement. I would tell others that this should be the first resort to resolving a conflict.
 I was impressed by the speed and efficiency with which the parties resolved their problems. This process was instrumental in clarifying the issues to all parties. I would absolutely recommend mediation.
Both mediators were fair to me. My relationship with my neighbor got better and finally we started talking. I would highly recommend this team to others.
Thank you very much for the opportunity to utilize the service. My highest "kudos" for the professionalism and kindness shown from day one.
I am impressed that this worked. Good job!
The mediators were really clear and very helpful.
The mediators were professional and helped keep both parties focused and positive.
This was absolutely great. So much appreciated. Lots worked out. Thank you so much.
We thought we had agreed on everything and some issues came up to surprise us. It could have gotten ugly and thanks to the mediation we were able to come to an agreement.
Thank you for putting up with us!
I appreciate the professional attitude of the mediators.
Mediation was definitely the quickest and least expensive way we could have gotten to this resolution.
(We had) extremely patient and understanding mediators. Both explained the process and kept everyone focused on reaching an agreement. (I was) very impressed with the service and professionalism. Thanks again for your time.
The mediation process helps to expand your view of the other party and allows you to make a rational decision.
It was a relaxed environment and less stressful than court proceedings.
To hear the background and story directly was valuable. The texture and depth are appreciated.
This was a comfortable and successful process. We discovered additional information we were not aware of which helped us reach a fair agreement. The mediators were extremely helpful and did a wonderful job.
I did not expect to reach such a rapid resolution. Thank you.
I feel mediation is going to help all included parties show a better outcome over an actual trial.
It is good to understand the other person's point of view even if no resolution occurs.
It was helpful to have an unbiased attitude to negate the escalation of tensions as the discussion continued