Resolve a Conflict
Will mediation work for me?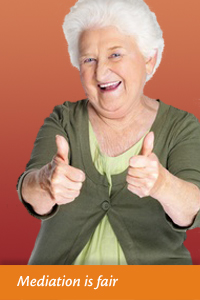 Resolving conflict by using an alternative approach like mediation is very successful. When people litigate their disputes, they comply with the court order about 34% of the time, but when they use mediation they keep their agreements 71% of the time! This is because when you're part of creating the solution, you generally feel better about the agreement and are much more likely to stick to it. There is no doubt—mediation works! Learn more about how mediation works, the style of mediation that the DRC uses, and what the mediation process is like.
The DRC can help with almost any type of conflict.
Other services
The Dispute Resolution Center offers other ways to help you resolve your dispute besides mediation. If the mediation process is not right for you, call one of our Case Managers about signing up for an Individual Coaching session with a professional mediator.
Individual Coaching sessions are one-hour meetings conducted in our office and are designed to help you explore ways to improve your communication with the other person in your dispute.
Telephone Mediation may be the right process for you if your dispute is very simple, such as working out a payment plan, and the other party is willing to engage in the process. In telephone mediation, a DRC Case Manager will talk to each of you individually to relay offers back and forth until an agreement is reached.
Multi-Party Mediation is is a process used to manage a complex dispute between multiple parties. In multi-party mediation, the DRC conducts an assessment process with interviews and makes recommendations about the next steps. If the parties want to proceed, there are a variety of options for moving forward including mediation, training, and other conflict resolution techniques.
Group Facilitation is a technique designed to help groups make decisions, vote, gather information, or other group activities. Facilitation is not necessarily designed to resolve a dispute.
What does it cost?
Mediation is the most affordable solution for working out an agreement. Dispute resolution centers are organized under state legislation that requires them to provide services on a sliding scale, and we will never turn anyone away for lack of ability to pay for the service.
For individuals: The Dispute Resolution Center charges clients on a sliding scale based on household income and the number of people living in the household. If your dispute is right for mediation, we will be happy to quote you a fee for the mediation session over the telephone. In mediation, each person in the dispute pays for their own fee unless another arrangement is made.
For business: If your business is involved in a dispute, the businesses fee is based on the annual gross revenue of the business.
For conveners: If your company wants to convene a mediation for 2 or more of your employees, the convening company will pay between $350 to $500.
For groups: Groups facilitation or mediation is charged on a different scale. Please contact us for the cost of this service.
Small Claims Court mediation: If you already have a case filed in Small Claims Court, you can still mediate at the DRC for free! If the time is to short to set up a mediation session, you can still try mediation on the day of your trial. Read more below about court mediation.
Get the process started!
Call us at (206) 443-9603 Ext. 1 or fill out this on-line form to schedule a mediation.