About the Dispute Resolution Center (DRC)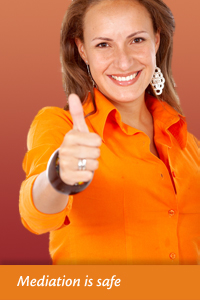 The Dispute Resolution Center of King County (DRC) is a non-profit organization that has provided affordable mediation and conflict resolution services for individuals, businesses, and families in King County since 1986. The DRC uses professional mediators from the community who volunteer their time to help us solve over 1,000 disputes a year. Using volunteer mediators helps us keep the cost of providing services low so that more of our citizens have access to a low-cost resolution process. The DRC is governed by a volunteer board of directors and managed by a paid staff. The Board of Directors is made up of community members in the fields of mediation, law, education, labor, human resources, marketing, finance, and the judiciary. If you are interested in serving on our Board of Directors please contact Board President, John Butler.
The DRC offers facilitative style, face-to-face mediation at our office at the historic Good Shepherd Center in the Wallingford neighborhood of Seattle. The DRC provides free mediation services at all four Small Claims Courts in King County so that people can choose mediation instead of litigation on the same day of their small claims trial. The DRC also offers Basic Mediation Training for people interested in becoming a facilitative mediator, customized training for organizations and businesses, and skill building training for the community. Click here to learn more about Training.
Our services include:
Mediation
Small Claims Court mediation
Conflict coaching
Individual consultation
Group mediation or facilitation
Information and referral
Training